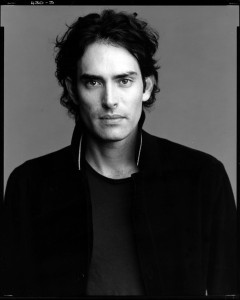 Photo by Timothy Greenfield-Sanders
Alexander Yulish (b. 1975, New York) works within an unfolding narrative of improvisation and abstraction in paintings that convey the inner psychology of both human and external forms. Working predominantly in large scale formats, Yulish utilizes a direct, impasto brush, building irregular shapes layer by layer into gestural, complex color arrangements in order to reveal abstract figurative forms. The movement of these gestures throughout each painting is marked simultaneously by harmony, undulation and discord, all playing out across the canvas with a distinct lyrical impulse unifying the composition of his work. The scale of each works allows him to communicate an inner dialogue with tactful urgency, expressing the depths and complexities of the human psyche.
Producing within an immediate and expressive format, Yulish's studio practice is borne of varying applications of acrylic on canvas as part of an elaborative process. Swirls of lines and broader shapes are established, conjoined, integrated and sometimes lost within the ceaseless creation of new forms and expressions. This tension between success, failure and the precariousness of sustaining gestural rhythm are active elements that define his creative process as well as the nature of his depicted subjects.
The junction of his improvisational process within the context of figurative painting reveals the subjective world of both the artist and his subject. In his interrogation of human forms through abstraction, the reality of the body and the self succumb to notions of human presence, unwinding definite shape and form into a familiar, yet implacable realm. It is here where he explores an array of altered mind states ranging from bestial physicality, limitless elation and humanity in all of its elements painted with a distinct pathos originating from his unique grasp of improvisation and abstraction. Throughout all of his work, Yulish adeptly renders moments of interior subjectivity into a brilliant and distinct external presence.
Alexander Yulish studied fine art at Connecticut College and has been featured in numerous solo shows of work, most recently his 2015 solo show Immovable Thoughts at ACE Gallery, Los Angeles. His work is included in the collection of Museo Jumex, Mexico City.